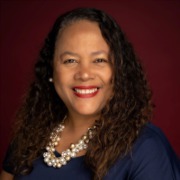 Katherine Howard-Johnson was born in Chicago, Illinois, moved to McDonough, GA in the late 90's.  She comes from a background of 14 years in the Retail Industry and Healthcare and brings customer service skills when working with her real estate clients.  She is a Watkins Real Estate Associates Licensed Real Estate Agent who works with home buyers and sellers. 
Katherine attended Clayton State University, where she earned a Bachelor's of Science Degree in Integrative Studies in the Healthcare Field.  Katherine had no experience in real estate and took courses that inspired her passion for real estate.  Her enthusiasm for helping others and utilizing her customer service skills helped Katherine connect with clients and provide them with the best service possible when they are listing, buying or investing in the real estate market.
When Katherine is not assisting with making homeownership dreams come true for her real estate clients, she enjoys spending time with family and friends by having gatherings consisting of eating, watching movies, and playing games at her residence in McDonough or outreaching in the community.
Katherine brings over 20 years of experience in excellent customer service and a commitment to work hard, listen and follow through.  She provides quality service and experience to build relationships with clients and more importantly, she maintains those relationships by communicating effectively.